MCE OptiBay for (non-Unibody) MacBook Pro 15-inch and (non-Unibody) MacBook 13-inch (White/Black)
OBSXGB-MB15
$0.00
MCE OptiBay for (non-Unibody) MacBook Pro 15-inch and (non-Unibody) MacBook 13-inch (White/Black)
OBSXGB-MB15
$0.00
Product Details
---
The MCE OptiBay for MacBook 13-inch (white/black) and MacBook 15-inch (non-unibody), replaces your internal SuperDrive (DVD drive) with a high performance SATA hard drive or SSD providing up to 2TB (2000GB) of additional internal storage space!
The internal SuperDrive (DVD drive) of the non-unibody MacBook 13" and non-unibody MacBook Pro 15" is an IDE/PATA device. The MCE OptiBay converts, through hardware, between IDE/PATA and SATA so that you can use high performance, readily available 2.5" SATA hard drives and Solid State Drives (SSDs) in the optical bay of your system.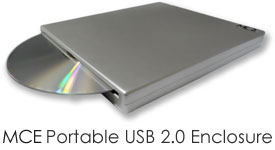 Optical Drive Options
Our new USB 2.0 Enclosure for your MacBook or MacBook Pro's SuperDrive is now only $29.99 when purchased along with the OptiBay! Easily install your internal SuperDrive into our ultra-slim, ultra-portable, specially designed USB 2.0 Enclosure and use with iTunes, iDVD, Finder Burning, etc. just as you did before! The enclosure is completely portable and powers from your USB ports and installing your internal SuperDrive into it is a breeze! You can also choose to include our ready-made Portable 8x USB 2.0 Double-Layer SuperDrive with your OptiBay Hard Drive. This slim external SuperDrive provides you with a bootable, portable, bus-powered drive that is just as compatible with iTunes, iDVD and Finder Burning as before.1 You can use it to load system software, install applications, as well as play and burn DVD's and CD's. Use the drive only when YOU need it... and put it away when you don't!
You can also choose the MCE External 20x DVD-/+R/RW FireWire/USB 2.0 "SuperDrive" to instead have the functionality of a higher-speed double-layer CD/DVD reader/writer at your disposal in a more stationary desktop form factor.
Features
Available by itself or with pre-installed high performance Hard Drive of up to 1TB in capacity... or with even higher performance SSD (Solid State Drive)
Bootable
S.M.A.R.T. Status Compliant
Sets up easily using Apple's Disk Utility program
Can be set up as a single volume, partitioned, or made part of RAID array
External USB 2.0 SuperDrive compatible with iDVD, DVD Studio Pro, iTunes, iPhoto, and Finder Burning
2LIFETIME WARRANTY on OptiBay Enclosure. Three-year warranty on hard drive or SSD.
Requirements
MacBook 13-inch (White/Black) or MacBook Pro 15-inch (non-unibody)
OptiBay Enclosure with SATA Interface requires a 2.5" SATA hard drive or SSD 9.5mm or less in height.
Package Includes
MCE OptiBay Kit (for your own 2.5" SATA Hard Drive or SSD) or MCE OptiBay with Pre-Installed SATA Hard Drive or SSD
Installation Instructions
Installation Toolkit
MCE DVD Player Activator Software
User's Guide
Installation
You may install this upgrade yourself (an installation guide is included with the drive) or, if you are not comfortable with working on your laptop, you may have the product professionally installed into your computer by MCE Technologies or one of our worldwide Authorized Upgrade Centers.
If you would like MCE to install the upgrade for you, we offer the following two options:
With the Supreme OptiBay Installation Service ($99), MCE will overnight you a shipping package and overnight return shipping label that you may use to send your computer to the MCE Service Center for upgrade. Once MCE has performed the upgrade(s), usually within 1-3 business days, MCE will ship the computer back to you according to the shipping option selected at the time the order was placed.
With the Standard OptiBay Installation Service ($49), once you order the MCE upgrade online here, you make arrangements to ship your computer to the MCE Service Center at the address shown below using packaging that you supply. It's suggested that you use the computer's original packaging, or comparably protective packaging. Once MCE has performed the upgrade(s), usually within 1-3 business days, MCE will ship the computer back to you according to the shipping option selected at the time the order was placed using the same packaging in which we received the computer.
Please note that shipping times are in reference to business days (weekend days are not included in these times). The $99 Supreme OptiBay Upgrade Service is available only to customers with a Ship To address located in the continental 48 United Sates.
If it is more convenient, you may also purchase this upgrade from and have it installed by an MCE Authorized Upgrade Center which will also generally charge a service fee, but may allow you to be without your computer for a shorter time since they can usually perform the upgrade for you while you wait. Call them for details.
The procedure to follow if you choose to have MCE perform the installation:
Select from the options above and place your order with us here online, or by calling 800-500-0622. International customers, please call 909-599-3105.
As with any major upgrade to your computer, it is wise to back up any important data from your computer's internal hard drive before having the upgrade performed on the computer.
If applicable, disable any password protection that is enabled on your computer.
If you are running Mac OS X, write down the username and password if necessary for login and include this in the package you send.
Pack up your computer. Include the battery installed in the computer, but not the AC adapter. Also include username and password info if necessary for logging in to the computer. Suitable packaging consists of either the computer's original box and padding or a comparably protective package. Do not send the computer in any of the slim boxes that many of the major shipping companies offer, as these do not provide sufficient protection for your laptop. If you no longer have the original box, FedEx sells a laptop-shipping package, specifically designed for shipping laptop computers, at any of their staffed locations.
Send the computer to the address below. If you've selected the Standard Installation Service, you may send the unit to MCE by the courier of your choice. We do recommend using a courier service with which you can insure and track the progress of the shipment.
MCE Technologies
433 W. Allen Ave, Ste. 112
San Dimas, CA 91773
attn: (your order number)
MCE telephone: (909) 599-3105
1Apple's DVD Player application will not launch when there is no internal SuperDrive present in the system. In order to playback DVD movies from an external SuperDrive we have developed our own DVD Player Activator software, included with your OptiBay. This software, run one time only, allows Apple's DVD Player application to launch and play your DVD movies directly from your external SuperDrive just as though it were still internal.